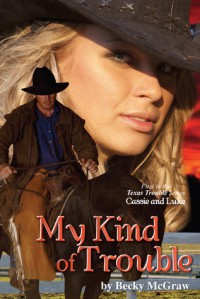 Both the hero,Luke and the heroine Cassie were very likable and realistic characters. Luke had a poor upbringing and it showed in his speech. Cassie, had a black cloud of trouble following her. Her run first, think later attitude got her into more trouble. These two loved each other for years but misunderstandings stood in their way.
The story clipped along at a perfect pace with laughs, tears and excitement along the way. This is the first book in this author's series. I look forward to the next books. This book showed so much promise in imagination and in hot story telling. Parts of the book seemed familiar and predictable but other parts caught me by surprise. With an other book under her belt this series can go no where but straight up and away. The characters introduced in this book, I hope I will see again in the following books.
The jilted boyfriend was the one weak spot in the book. I have met him in many other books with a different name. He does however make the perfect villian that allows Luke to strut his stuff and Cassie to display her quick thinking. An easy, fun hot read for a cold night by the fire.